Thank you to Gallery Books and NetGalley for a ARC ebook of this title.
I love magical realism in my books. Write books like Time Traveler's Wife, Outlander, In Five Years and I will give you all my money.
I am a sucker for fairytales
I have no idea why I love these types of books so much. Growing up I was always a sucker for fairytales. Maybe it is a way for me to get that storybook ending. Or the idea that this life isn't the only possibility, that I am living out a series of possible lives, one not better than another.
All I know is if you write a holiday romance Groundhog's day mash-up, I will read it, then I will love it, and I will tell all the peoples about it.
In a Holidaze has the effortless ease of Christina Lauren's other books. I just discovered this writing duo this year and if I didn't have to work, take care of kids and bathe, I would try and catch up on their back list.
Families don't really need to eat or wear clean clothes, right?
They write romance well. The characters are always complicated enough to keep me guessing, while not making me want to throttle them for the choices they make.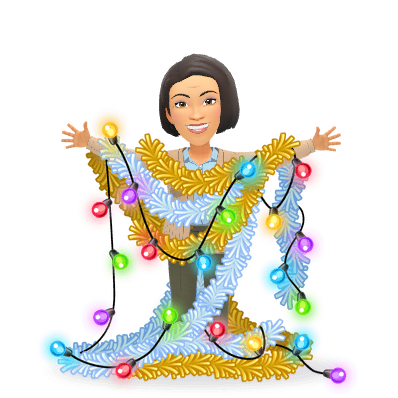 Mae Jones has crushed hard on Andrew since she discovered boys no longer had cooties. Their families are old friends and every Christmas they descend on the mountains to the cabin his parents own. The time together is filled with traditions like: Build the best Snow Creature, Sardines, and Scavenger Hunt.
This Christmas Mae makes a huge egg nog related mistake. She makes out with Theo, the wrong brother. On her way back to the airport after a disastrous holiday trip, Mae wishes to be happy.
Next thing she knows she's waking up on a plane not bound for home in California, but back to her mountain retreat to start the holiday all over again.
After a series of misfires and restarts, Mae finds a timeline she doesn't want to leave. Will fate intervene and send her back to a miserable present, or will she fight to stay in the life she chooses.
I have to admit, I thought the book was headed in a different direction. After all the book starts with the uncomfortable morning after make out session with Theo. As Mae goes through the timelines and you see her interacting with Andrew, the brother she likes, you hope more and more that Theo is an aberration. Because Andrew is perfect. Like, perfect perfect. Like Andrew Lincoln before he turned all Rick Grimey.
Mae has a lot of issues to work through that have nothing to do with Andrew, which is what makes her character worth rooting for. She doesn't want to let go of the past. She is too invested in what was and too afraid to imagine what could be. She is miserable and yet willing to stay in that misery if it means she doesn't have to risk anything.
The anti-Hallmark Holiday Romance
I love how it is a holiday book without feeling heavy handed. I could see myself picking this book up any time during the year and enjoying it. My only hesitation on flat out loving this book for all eternity is that I wish the characters had more diversity.
And I am waiting for this to be a movie. I need to see this now.
If you are looking for a holiday romance that won't give you a cavity, this is a good pick. If you are looking for a Hallmark Movie in a can, this may not be the book for you. But it should be, because it is a fun read and will have you hiding in closets for years to come.
I am an Amazon Affiliate. If you click on a link or picture it will take you to Amazon, where if you make a purchase I receive a percentage of the sale. I was not paid for a positive review. The opinions expressed are my own.
What is your favorite holiday romance? Answer in the comment section for your title to be included in the December reading guide.